HIDES > BROWN BEAR HIDE NO. 2 (ROMANIA)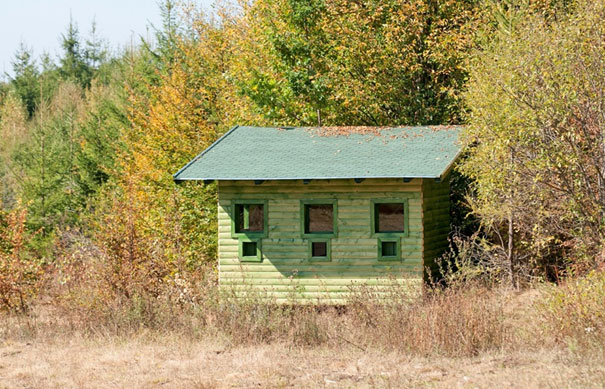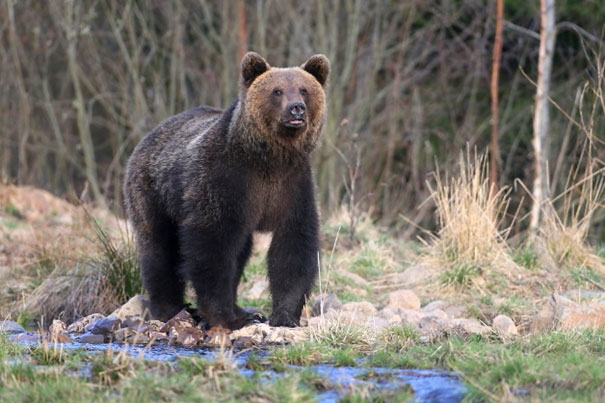 Location and installation year:
This hide is located in the base of the Hargita Mountain in Transylvania near the town of Székelyudvarhely (Odorheiu Secuiesc). It was installed on the edge of a thick young forest with a stream and bushes in March 2013.
Access:
It is 200 meter walk to the hide from the car parking area.
Size and style:
It is 350 cm wide, 250 cm long and 250 cm high. It has three photo-windows which have a look-out window and a lens cover material with proper lens hole. The photography is with or without windows (depending highly on the wind directions). It is comfortable for three photographers.
Comfort and accessories:
- Chairs
- One bed
- Curtains
- Centilators for cleaning the fog from windows
- Lens-cover hole
- Shelf
Regulation:
This hide can be entered any time of the day. We usually have an afternoon photo session from 15:00 to 19:00 (until dusk) but it is possible to visit the hide in the early morning as well. Smoking is not possible in the hide. Avoid to use any chemicals which the bears could smell (e.g. insect repellent, perfume, deodorant etc.)
Recommended Photo Equipment:
The distance of the bears from the hide ranges from 20-80 meter. All sorts of lenses are recommended in the range of 200-500 mm. Occasionally the bears can appear very close to the hide as well. Extenders.
What to bring:
- Headlight
- Tripod
- Warm clothing for emergency
Photo period:
20th April to 25th September; other dates possible but bears not guaranteed
Possible species:
Carpathian Brown Bear, Wild Boar, Eurasian Lynx, Red Deer, Red Fox
Latest image in the gallery: Carpathian Brown Bear (2017-11-07 23:24:07)

More pictures...