HIDES > GREAT BUSTARD HIDE (HUNGARY)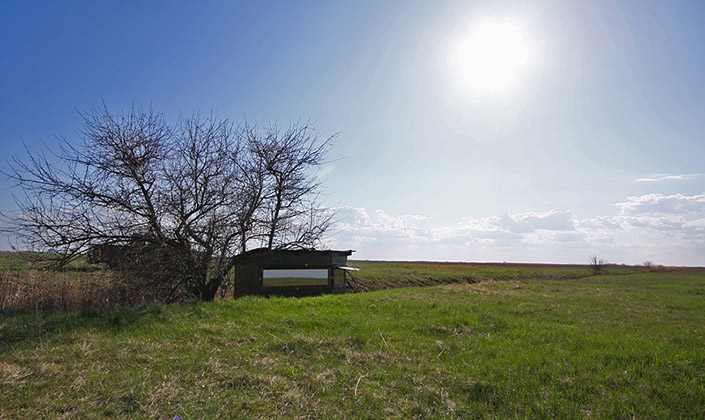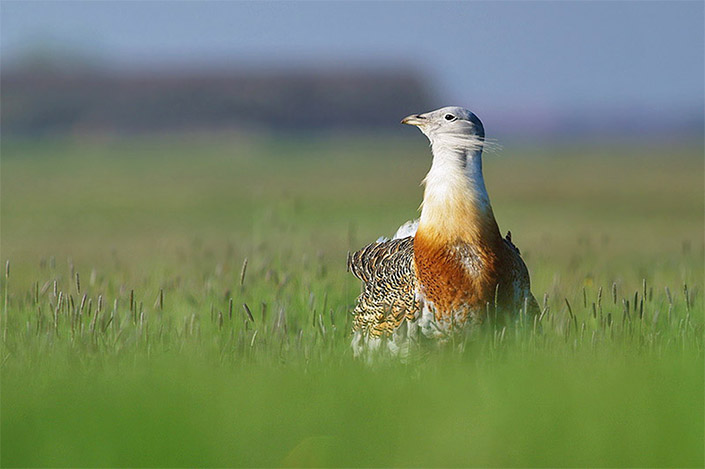 Location and installation year:
This hide is located in the western part of the Hortobágy National Park in a Great Bustard displaying area. It has been installed in open steppe habitat in September 2009.
Access:
It is possible to drive into the vicinity of the hide but depending on the Spring waters 300-600 meter walk is required.
Size and style:
It has two separate cabins which allow photograph to two different directions. One cabin is 250 cm wide, 140 cm long and 125 cm high with a 220 cm by 50cm photo-through window. The other cabin is 250cm wide, 125 cm long and 125 cm high with a 220 cm by 50cm photo-through window. It is possible to change cabins without being seen. The hide is partly in a dyke by a tree so when foliage is out it blends into the landscape. It is comfortable for three photographers.
Comfort and accessories:
- Three chairs with back support
- Curtains
- Ventilators against the steaming up of the glass window

Regulation:
This hide must be entered by the photographers before daylight (cc. 04:00) and can only be left after dusk (cc. 19:00). This is necessary as the great bustards are very sensitive and once disturbed they can abandon the display area. Strictly no smoking in the hide.
Recommended Photo Equipment:
The distance to the Bustards only depends on luck so best to have big lenses. We recommend 500 mm and 600 mm lenses plus crop bodies and extenders.
What to bring:
- Headlight
- Warm clothing for emergency
Photo period:
10th to 25th April
Possible species:

Latest image in the gallery: Great Bustard (2017-11-05 06:13:14)

More pictures...