HIDES >PURPOSE-BUILT PHOTO-BOAT (ROMANIA)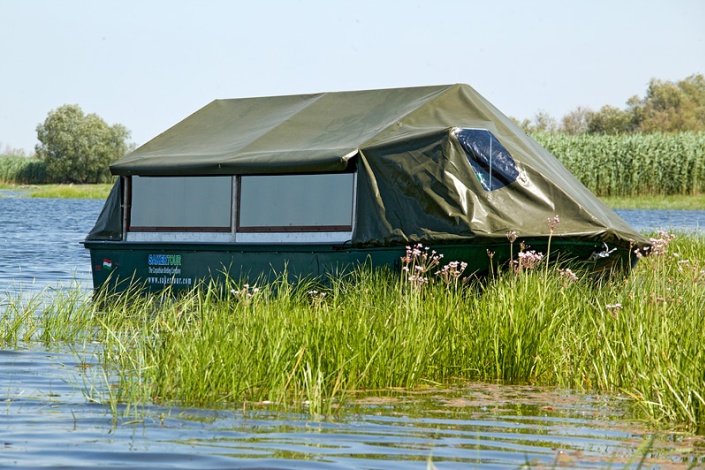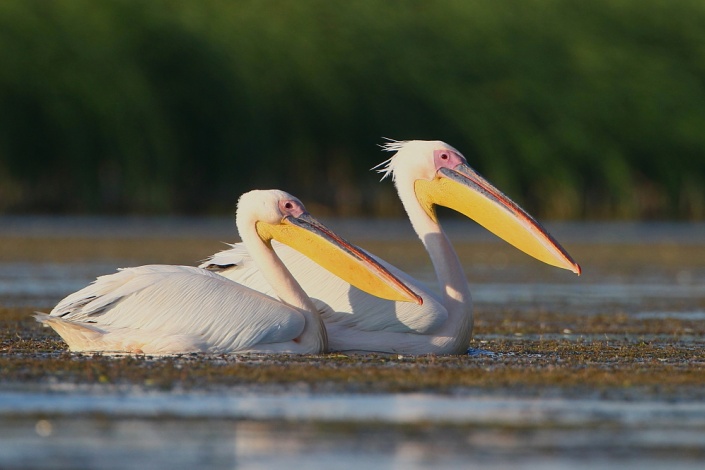 Location and installation year:
This is our main hide in the Danube Delta. It was built and tested in 2011. We use it indisde the Danube Delta to get close to birds.
Access:
It is usually accessed from stable ground and you do not need to get wet feet. It is adviseable to be prepared though for wading in water in emergency or in case there is a wish to get to firm land for various reasons.
Size and style:
This 6,5 m long very stable flat bottomed boat was designed for photographers. It has four seats in the middle of the boat which are removable so when needed photography takes place from cushions allowing the lowest possible angle. The boat is installed with special photo-through glass – the same as in our hides in Hungary – on both side and also with a curtain system. The windows are open able so photography also possible through the curtains only. The boat can be used in all weather as it has a removable roof as well. It is comfortable for four photographers.
Comfort and accessories:
- Roof (all weather)
- Curtains
- Seats
- Cushions
- Special bean bags
- Life vest

Regulation:
No special regulations, all discussed with the guide. The use of the curtain is recommended but again it changes all the time depending on how each subject is stalked. Smoking is strictly prohibited on the boat.
Recommended Photo Equipment:
All sorts of lenses are recommended but 500 mm and 600 mm are the best. Also 300 mm and 400mm lenses can be very good for flight and other action shots. Any zoom lenses can be adequate too (70-200; 200-400). Extenders.
What to bring:
- insect repellent
- waterproof and/or slipping proof sandals or slippers
- wind proof clothing
- sun block and hat
Photo period:
15th May to 15th of July
Possible species:
Birds: Great Crested Grebe; Black-necked Grebe; Red-necked Grebe; Little Grebe; Great Cormorant; Pygmy Cormorant; White Pelican; Dalmatian Pelican; Night Heron; Squacco Heron; Little Bittern; Bittern; Little Egret; Great White Egret; Spoonbill; Grey Heron; Purple Heron; White Stork; Glossy Ibis; Mute Swan; Mallard; Common Pochard; Ferruginous Duck; Garganey; White-tailed Eagle; Hobby; Marsh Harrier; Water Rail; Moorhen; Coot; Black-tailed Godwit; Black-winged Stilt; Lapwing; Spotted Redshank; Green Sandpiper; Wood Sandpiper; Ruff; Little Gull; Black-headed Gull; Med Gull; Caspian Gull; Pallas's Gull; Common Tern; Whiskered Tern; Black Tern; White-winged Black Tern; Tawny Owl; Kingfisher; Roller; Grey-headed Woodpecker; Barn Swallow; Yellow Wagtail; Savi's Warbler; Sedge Warbler; Reed Warbler; Great Reed Warbler; Moustached Warbler; Collared Flycatcher; Thrush Nightingale; Penduline Tit; Bearded Tit; Reed Bunting; Hooded Crow; Mammals: Muskrat; Otter, Wild Cat, Racoon Dog; Reptiles: Dice Snake; Grass Snake; European Pond Terrapin Amphibians: Edible Frog; Butterflies: Painted Lady; Large Copper; Dragonflies: Red Darter; Banded Demoiselle; Blue-tailed Damselfly...
Latest image in the gallery: Dalmatian Pelican (2018-01-20 04:53:42)

More pictures...