HIDES > RED-FOOTED FALCON TOWER HIDE (HUNGARY)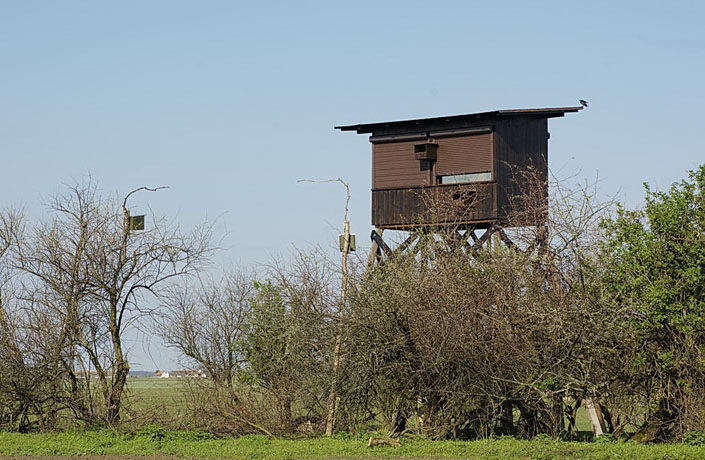 Location and installation year:
This hide is located in the eastern part of the Hortobágy National Park in a wood which is a regular breeding area for the falcons. It was installed in March 2008. Around our hide nest boxes were disposed and we have placed several branches for the falcons to perch on in front of the hide with good background.
Access:
It is possible to drive to the hide. If spring water situation does not allow easy access then 300-500 meter walk.
Size and style:
It is 200 cm wide, 300 cm long and 200 cm high. The bottom of the hide is at 5 meters above ground level. It has 150 cm by 100 cm photo-through windows, two on each side of the hide (eastern and western). This allows unique opportunity to photograph into two directions at a time. It is comfortable for four photographers.
Comfort and accessories:
- Four chairs with back support
- Blinds on each window
- Curtains
- Large mattress
- Shelf
- Slippers of various size
Regulation:
This hide must usually be entered at dawn. It is possible to leave the hide any time but once entered, one has to spend minimum 5 hours in a row. The use of the curtains is essential when the blinds are open into both directions otherwise the birds can see through the hide.
Recommended Photo Equipment:
The distance of the branches from the hide is about 8 meters but as there are several branches the average distance from the birds is about 10 or 11 meters. All sorts of lenses recommended but a 300 mm is the best for flight and other action shots. Up to 500mm lens can be adequate depending on the crop of the camera. Occasionally some species perch on the hide so a wide angle lens can be useful too.
What to bring:
No essential items
Photo period:
25th April to 15th July
Possible species:
White Stork, Common Pheasant, Crane, Marsh Harrier, Red-footed Falcon, European Kestrel, Saker, Lapwing, Woodpigeon, Turtle Dove, Cuckoo, Roller, Hoopoe, Black Redstart, Stonechat, Bluethroat, Marsh Warbler, Lesser Whitethroat, Common Whitethroat, Blackcap, Spotted Flycatcher, Red-backed Shrike, Lesser Grey Shrike, Magpie, Jackdaw, Starling, Tree Sparrow, Black-headed Bunting
Latest image in the gallery: Red-footed Falcon (2017-11-21 00:55:39)

More pictures...