HIDES > REEDBED HIDE (HUNGARY)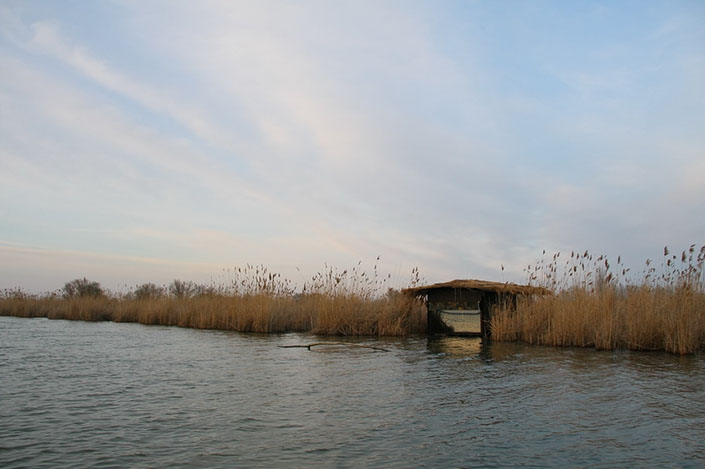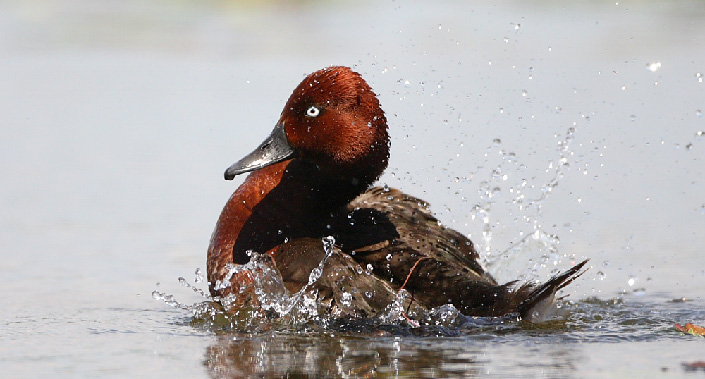 Location and installation year:
This hide is located in the main Hortobágy fishpond system in the centre of the Hortobágy National Park and it was installed in March 2009. This particular fishpond has wide reedbed all along the edges with lagoons and is drained only every second year and therefore the fisheries activity limited. In summer most of the pond is covered with floating vegetation so the background is suitable for photography. It also has small islands in front of the hide into one photo direction so birds can use it for resting, preening, feeding etc. There are also several branches to both photo directions for birds to perch on.
Access:
It about 200 meters from the shore and approachable on a bank which – depending on water level – can have shallow water cover at some parts.
Size and style:
It is 280 cm wide, 280 cm long and 140-200 cm high depending on the water level. It has two 265 cm by 115 cm photo-through windows. The bottom of the hide is about 5 cm above water level so it is possible to make pictures from very low outlook. The hide is located at the edge of the reedbed and it is possible to photograph into two directions. This allows photographers to have direct and back light both in the morning and in the afternoon. The hide is standing on pillars. It is comfortable for three photographers.
Comfort and accessories:
- Curtains
- Large mattress
- Two shelves
- Wellington boots
- Bean bags
Regulation:
This hide is usually entered before dawn and - as the light is good throughout the day - left at dusk. It is possible to leave the hide any time but has to spend minimum 5 hours in a row once entered.
Recommended Photo Equipment:
All sort of lenses recommended but 500 mm and 600 mm are the best. Also 300 mm lens for flight and other action shots. Any zoom lenses can be good too (70-200; 200-400). Occasionally some species perch right in front of the hide so a wide angle lens can be useful too. Extenders.
What to bring:
Headlight or torch
Mosquito repellent
Photo period:
15th of March to 1st of October
Possible species:
Little Grebe, Great Crested Grebe, Black-necked Grebe, Red-necked Grebe, Great Cormorant, Pygmy Cormorant, Night Heron, Squacco Heron, Bittern, Little Bittern, Little Egret, Great White Egret, Grey Heron, Purple Heron, Glossy Ibis, Spoonbill, Mute Swan, Greylag Goose, Wigeon, Gadwall, Teal, Mallard, Garganey, Pintail, Shoveler, Common Pochard, Red-crested Pochard, Ferruginous Duck, Tufted Duck, Goldeneye, Smew, Marsh Harrier, Little Crake, Water Rail, Moorhen, Coot, Little Ringed Plover, Lapwing, Ruff, Snipe, Spotted Redshank, Common Redshank, Green Sandpiper, Wood Sandpiper, Common Sandpiper, Black-headed Gull, Common Gull, Yellow-legged Gull, Caspian Gull, Whiskered Tern, Black Tern, White-winged Black Tern, Kingfisher, Barn Swallow, Yellow Wagtail, White Wagtail, Bluethroat, Savi's Warbler, Sedge Warbler, Reed Warbler, Great Reed Warbler, Bearded Tit, Hooded Crow, Magpie, Starling, Reed Bunting
Latest image in the gallery: Bearded Tit (2014-09-11 01:37:37)

More pictures...